Précédent
Suivant
Seconde édition de la Coach Regatta Marseillaise
03/02/2018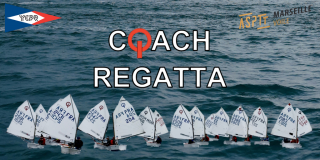 Cliquez ici pour accéder à l'album photo
Les 3 et 4 février, l'YCPR et l'ASPTT Marseille organisent la seconde édition de la Coach Regatta Marseillaise.
YCPR and ASPTT are co-organizing the seconde edition of the "Coach Regatta Marseille" from February 3rd to 4th for the Optimist class.
Les meilleurs coureurs PACA, Corses et internationaux sont attendus ce premier week end de février pour s'entrainer et naviguer tous ensemble.
Best sailors from PACA, Corsica and international are expected the first week end of February to train and sail together.
Alors que la première édition en 2017 a accueilli plus d'une cinquantaine d'enfants de 12 à 14 ans, ce sont près d'une centaine de participants qui franchiront la ligne de départ samedi 3 février.
While the first edition in 2017 has welcomed more than 50 children from 12 to 14 years old, nearly 100 participants will cross the starting line saturday February 3rd.
Organisée et régie par Lou Abad Rieu (ASPTT) et Thomas Giorgi (YCPR), les deux entraineurs Optimist de la Pointe Rouge, cette Coach Regatta a pour objectif de faire progresser les jeunes athlètes ; deux jours d'entrainement sous forme de régate où les coachs peuvent aider oralement leurs coureurs pendant les courses.
Organized and managed by Lou Abad Rieu (ASPTT) and Thomas Giorgi (YCPR), both Optimist coaches from Pointe Rouge, the Coach Regatta's goal is to push forward young athletes ; two days of training in the form of a regatta where coaches can give oral help to their sailors during races.
Si vous êtes de PACA, Corse ou d'un pays étranger et que vous souhaitez participer, envoyez nous un mail à coachregatta13@gmail.com
If you're from PACA, Corsica or from a foreign country and you want to participate at the Coach Regatta, please send us an email to coachregatta13@gmail.com
Documents utiles / Useful doc
Notice d'information
Bulletin d'inscription / Registration Form
Comment venir à la Pointe Rouge ? / How to come to Pointe Rouge ?
Logement / Accomodations
Louer un semi rigide / To rent a rib
Plan / Map
Programme / Schedules
Il n'y a pas d'autorisation parentale car les coureurs sont sous la responsabilité de leur coach.
There is no parental authorization because sailors are under the responsability of their coach.
Cliquez ici pour accéder à la page Facebook de l'événement / Click here to go to the event facebook page
Cliquez ici pour lire l'article de la Coach Regatta 2017 / Click Here to read the news about the Coach Regatta 2017.
Si vous souhaitez avoir plus d'informations ou si vous voulez venir nous aider à organiser cet événement, contactez nous à coachregatta13@gmail.com
If you want further information or if you want to help us to organize this event, please contact us to coachregatta13@gmail.com