Précédent
Coach Regatta Marseille - 3ème édition
19/01/2019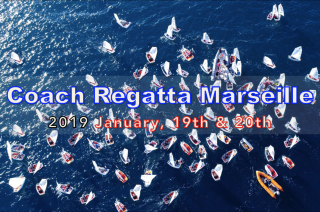 La Coach Regatta Marseille revient pour une 3ème édition les 19 et 20 janvier prochains !
Coach Regatta Marseille is coming back for the 3rd time on January 19th and 20th !

Inscription / Registration
Autorisation parentale / Parental authorization
Avis de course / Notice of race - Publié le 6 décembre 2018
Comment venir ? / How to come
Organisée par l'YCPR et l'ASPTT Marseille, cette régate destinée aux Optimists s'inscrit dans une dynamique de Ligue mais aussi internationale depuis 3 ans maintenant.
Since 3 years now, YCPR and ASPTT Marseille has organized this regatta for best Optimist sailors from South of France Sailing League, Corsica Sailing League and foreigners.
Organisée et régie par Lou Abad Rieu (ASPTT) et Thomas Giorgi (YCPR), les deux entraineurs Optimist de la Pointe Rouge, cette Coach Regatta a pour objectif de faire progresser les jeunes athlètes ; deux jours d'entrainement sous forme de régate où les coachs peuvent aider oralement leurs coureurs pendant les courses.
Organized and managed by Lou Abad Rieu (ASPTT) and Thomas Giorgi (YCPR), both Optimist coaches from Pointe Rouge, the Coach Regatta's goal is to push forward young athletes ; two days of training in the form of a regatta where coaches can give oral help to their sailors during races.
Au programme : 2 jours de régate, des ateliers organisés par des jurys sur le thème de règles de course, des debirefing vidéos et peut être quelques surprises ...
Schedule : 2 days of regatta, brainstorming work-shops organized by jurys concerning racing rules, video feed-back and maybe some suprises ...

Chiffres clés de l'année 2018 / Key facts of 2018 edition :
90 Optimists /

90 sailors

7 courses (à cause d'un vent trop for le samedi les coureurs n'ont pu naviguer que le dimanche) /

7 races (because of a too windy Saturday, athletes just sailed on Sunday)

25 bénévoles /

25 volunteers

15 clubs de voile différents /

15 sailing clubs

Contact : coachregatta13@gmail.com / +33 6 34 15 78 72
Teaser :