News
Together, for better or for worse
22/10/2019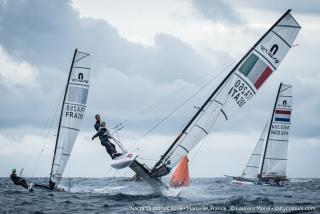 Key figures:
2 races launched.
30 knots : the strongest wind gust we experienced today
40 capsizing boats according to the organizers
90 volunteers ready to comfort and cheer up the competitors once they were back ashore.
Together, for better or for worse
What the competitors have experienced today wasn't exactly the best Marseille can offer… After a storm early this morning, the sailors had to wait for 2 more hours before the wind stabilized and they could start the races. Competitors, coaches and organizers took advantage of the situation and collected the trash taken by the rain into the sea overnight. Many thanks to them!
The east wind had long been expected; it started blowing and a leg was launched for both groups. But as we feared, the wind didn't stop growing, stronger and stronger, generating 30-knot gusts at the moment the race finished.
After that, many boats capsized, many young sailors got scared but the race committee proved its efficiency once again, together with the coaches who gave a most helpful hand to the boating safety teams.
To finish with: 1 race for each group today with just as many smiles and a pasta party getting ready for tonight!
Interview of the day – Philippe Faure, race committee
"Today we sailed with a 0 to 25-knot east wind, which was quite difficult for many boats. So, after the Nacra15 class agreed, we chose to go back ashore after only one race in order not to damage anybody or anything.
All the coaches were really helpful regarding safety so everybody was brought back ashore safe and sound, we don't want to put anything at risk regarding these youngsters' safety.
I really must say thank you to the coaches but also congratulate the sailors for competing in such tough conditions!"
Provisional ranking before jury – October 22nd2019
Jesse LINDSTADT & Lisa RAUSCH (GER) – 6 points
Georgia PAYNE & Nathan BRYANT (AUS) – 10 points

Andrea SPAGNOLLI & Alice CIALFI (ITA) – 12 points
Partagez :

|