Présentation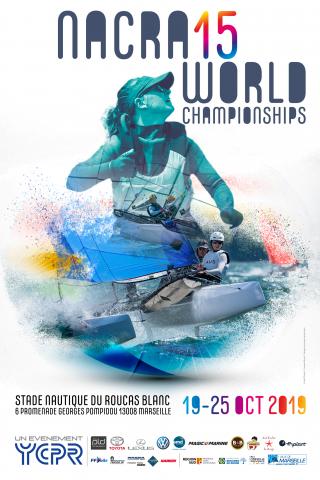 2019, année du neuf !
2019, a year full of novelties !
Après avoir fini de compléter sa collection de supports olympiques en 2018 avec les 49ers et Nacra 17, l'YCPR s'attaque cette année à un support olympique jeune !
After completing its collection of Olympic supports in 2018 with 49ers and Nacra17, this year the YCPR is tackling a young Olympic support !
À 5 ans des Jeux Olympiques, ce sont donc les Nacra 15 qui auront l'honneur de disputer leur championnat du monde en rade Sud de Marseille !
With 5 years to go before the Olympic games, it's Nacra 15 who will have the honour of sailing their world championship in the South Bay of Marseille !
Organisé par le Yachting Club de la Pointe Rouge, ce championnat du monde se déroulera du 19 au 25 octobre 2019 sur la base nautique du Roucas Blanc, future marina olympique.
Organized by the Yachting Club Pointe Rouge, this world championship will take place from 2019 October 19th to 25th at the Nautic stadium of Roucas Blanc, the future Olympic marina.
Informations clés :
Quoi ? : Championnat du monde Nacra 15
Où ? : Stade nautique du Roucas Blanc, 6 promenade Georges Pompidou 13008 Marseille
Quand ? : Du samedi 19 au vendredi 25 octobre 2019
Comment ? : 2 jours d'inscriptions et jauges, 5 jours de courses
Combien ? : 1 zone de course avec près de 100 bateaux

Information :
What ? : Nacra15 World Championship

Where ? : The future olympic marina « Stade Nautique du Roucas Blanc » - 6 promenade Georges Pompidou 13008 Marseille

When ? : From October 19th to 25th

How ? : 2 days of registration and measurement, 5 days of racing

How many ? : 100 boats within 1 race area

Ambitions :
Convivialité à terre et sur l'eau
Échange et partage
Maximum de courses
Sport et compétitivité sur l'eau
Diversité, mixité et parité

Ambitions :
Friendliness onshore and inshore
Exchanges and sharing
Maximum of races
Sport and competition on the water
Diversity, social mix and parity