News
The calm before the storm
21/10/2019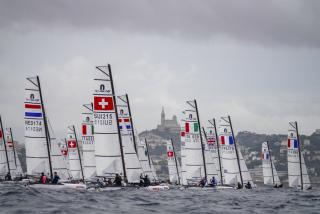 Key figures
17 nations
160 competitors
8 races within 5 hours
Thousands of smiles
The calm before the storm
From Australia to the United States of America and Tahiti and Denmark... the best sailors in the world have chosen to meet here in Marseille's South Bay from October 19thto October 25th.
Today the 80 boats were divided in two fleets; they have started their race for the world title with a 5 to 15-knot- east wind.
For them it has been the first opportunity to compete on the future Olympic site of the Paris 2024 Olympics.
Interview of the day – Corinne Aubert, Principal race officer
"Today, each group has managed to do four races, under an unusually rainy sky. Everything went just fine, regarding the weather conditions. Four races for each group, this means the results will be validated. Eight superb starts were launched, no recall procedure which made both the coaches and the organizers pretty happy!
The days to come will probably be difficult: heavy wind making the sailing conditions unsure, this is why we have been very happy with the organization of this first day. We have taken everything there was to take, efficiency first!
Provisional ranking before jury decision – October 21st2019
Georgia PAYNE & Nathan BRYANT (AUS) – 17 points
Thomas PROUST & Lou BERTHOMIEU (FRA) – 17 points
Andrea SPAGNOLLI & Alice CIALFI (ITA) – 18 points
Partagez :

|