News
Last but not least
25/10/2019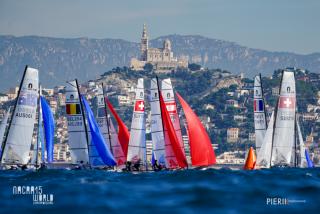 Key figures
11 races
160 athletes
30 coachs
100 volunteers
0 to 30-knot winds
Last but not least
We've had it all: wind, rain, storm and no-wind. Marseille has shown us all its potential today. Program of the day: sun, light mistral wind and most of all: final races!
All 80 boats set sail on this final day, split in two fleets according to the previous days results.
Three legs were launched for and silver both the gold fleets, under the control of the race committee, a real asset or the organization, as they know the bay so well!
Interview of the day – Corinne Aubert, principal race officer
As a conclusion to this week: all is well that ends well. The event has come to a sunny end, with a little mistral blowing, that is to say typical conditions for Marseille, unlike the conditions we had this week due to unusual weather conditions.
In the end, the athletes competed in 11 races, with mixed conditions. Race committee Philippe Faure managed for a maximum number of races to be done within available the time.
Tonight we can say all the competitors happen to be happy with the results they have achieved against all odds…and weather conditions! Such difficult and different conditions have made it possible for all to make their best.
So, all competitors, coaches, organization, judges and race committee are leaving Marseille happy, satisfied, not only with the race conditions but also with the atmosphere there has been all week both off shore and ashore whatever the conditions and in spite of it being an international competition.
Next event at the YCPR: April 13 to April 19 2020: European Championship for "Techno 293" and "Techno Plus"!
October 25th, and the World Champions are:
Ruben Booth & Rita Booth (Australia) / Nacra 15 World Champions
Jesse Lindstadt & Lisa Rausch (Germany) / Nacra 15 U19 World Champions
Eliott Coville & Gustave Liot (France) / Nacra 15 U16 World Champions
Partagez :

|