News
Good things come for those who wait ...
24/10/2019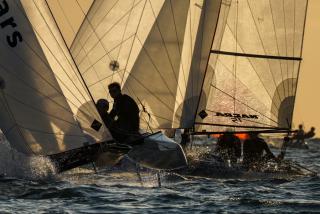 Key figures
6 races were launched
0 to 12-knot wind
5 hours waiting ashore
30 coaches
Good things come for those who wait
After a no-race day on Wednesday because of too strong winds and heavy rain, today has been completely different!
The first start was initially planned at 10am, but couldn't happen before 3pm because of the lack of wind. And now that the sun has come back, the wind is playing hide and seek!
But Philippe Faure, the race committee, is always on the go, he knows the south bay like the back of his hand and knew the wind was coming around 2:30pm. That's how he managed to allow the competitors to set sail and launch two races for each group.
And today, for the first time, the 160 athletes and 30 coaches have experienced the perfect conditions Marseille can offer: bright sunshine and light 10 to 12-knot mistral. A perfect afternoon in the south bay!
Interview of the day – Paul Wakelin, Nacra 15 class chairman
"We've had 3 superb races today, which puts an end to the qualifying phase. Tomorrow will be a great last day for both gold and silver fleets.
Today Marseille gave us the best it has to offer, and it was amazing to see the athletes confronting such weather conditions. The crews were very close to each other, differences in level were really minimum, with very close finish too. Some new teams sailing next to the best ones.
And last, once again, I must thank the race committee for the perfect decisions they made all day!"
Provisional ranking before jury – October 24th2019
Jesse Lindstadt & Lisa Rausch (GER) – 20 points
Ruben Booth & Rita Booth (AUS) – 22 points
Andrea Spagnolli & Alice Cialfi (ITA) – 25 points
Partagez :

|